2016 OneCity / OneBook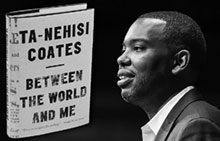 Between the World and Meby Ta-Nehisi Coates, an award-winning African-American author, is the book selected to be the first OneBook/OneCity read this fall.
Described as a letter to his 15-year-old son, the book, which uncovers and addresses racial inequality, the book has been on the NYTimes best-seller list for over 64 weeks.
Coates, 41, is an American writer, journalist and educator. He is a national correspondent for The Atlantic, where he writes about cultural, social and political issues, particularly as they regard issues of race.
The project, which calls for about a half-dozen discussion groups in the city for the next six weeks, is sponsored by Newburyport Adult and Community Education, the Newburyport Literary Festival and the municipal Commission for Diversity and Tolerance.
Conversations will occur in several small groups, after the kick-off event Wednesday evening, November 2 in the program room in the Newburyport Public Library. Beginning at 6:30 and running until 8:00, the event will be facilitated by Michael Eatman, a professional facilitator/leader in discussions of race. To attend this or any of the discussions participants are invited to attend even if they've not finished or read the book yet.
The following is a list of venues and times for facilitated conversations about the book:
Wednesday, Nov. 2, 6:30 p.m., program room at the public library.
Saturday, Nov. 12, 11:30 a.m., Jabberwocky Bookstore.
Thursday, Nov. 17, 7 p.m., Congregation Ahavas Achim, the Newburyport synagogue.
Thursday, Dec. 1, 7 p.m., Unitarian Universalist Church.
Thursday, Dec. 8, 7 p.m., Plum Island Coffee Roasters (54R Merrimac St.).
---