2017 Other Events
---
The Art of Books
April 25-30, 2017
Newburyport Art Association: Laura Coombs Hills Gallery
65 Water Street
Newburyport
A special exhibit celebrating books as the basic medium for works of art.
---
Sunday, April 30th
Sunday 1:00 PM
Firehouse Center for the Arts
One Market Square
Newburyport
Fifteenth Annual Favorite Poem Project of Greater Newburyport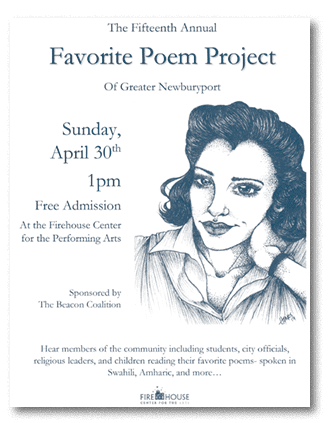 The brainchild of former U.S. Poet Laureate Robert Pinsky, The National Favorite Poem Project was launched in 1997 to celebrate the sheer pleasure of poetry with the public at large. Pinsky put out a call for favorite poems and received 18,000 responses from Americans of diverse regions, ages, and backgrounds. For the past fourteen years, the Creative Writing Class at Newburyport High School has produced the Favorite Poem Project of Greater Newburyport.
Students will read and consider all entries, so the more entries we receive, the more poetry students will read!
---