Why a Newburyport Literary Festival…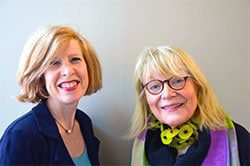 Vicki Hendrickson and Jennifer Entwistle, co-chairs of the Newburyport Literary Festival, ask you to mark your calendar for the 2020 event April 24th and 25th.
Friday April 24th we will open the festival at the Firehouse Center for the Arts. The ceremony is followed by our Dinner with the Authors at Masonic Center of Newburyport. Saturday continues the festival with a full day of activities, from Breakfast with the Authors to the closing ceremony. This festival promises to have something for every reader.
With a rich literary heritage, the greater Newburyport area has a lot to be excited about. Writers as diverse as John Greenleaf Whittier, John P. Marquand, Edna St. Vincent Millay, and Andre Dubus II have called Newburyport home.
This effort is made possible through the generosity of our founding sponsors:
The Institution for Savings and the
The Newburyport Bank
Additional support is provided by:
The Massachusetts Cultural Councils of Georgetown, Merrimac, Newbury, Newburyport, West Newbury, Charles F. & Marianne Small Charitable Foundation, The Grog, Newburyport Daily News, Jen Wright Signs,John W. Pramberg, Esq., Bradford & Bigelow and PIGeBANK Graphic Design.
Steering Committee
Michael Cameron
Linda Carpino
Myfanwy Collins
Bethany Groff Dorau
Allison Driscoll
Rhina Espaillat
Hannah Harlow
Nana Kennedy
Karen Krueger
Alfred Nicol
Debbie Szabo
Skye Wentworth
Ghlee E. Woodworth