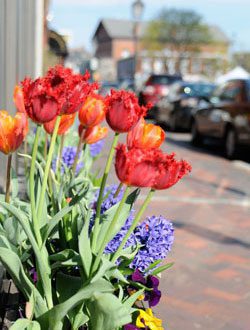 The historic seaport of Newburyport was an early shipbuilding center. It came to be called the "Clipper City," and by the beginning of the American Revolution it was the fourth largest town in America. One of the oldest cities in Massachusetts, Newburyport is graced by beautiful historic homes and a stunning waterfront. Writers, actors, and artists have made Newburyport home to a lively arts community and visitors come to Newburyport to enjoy its museums, cobbled downtown district, and varied shops and galleries.
Newburyport is a draw to tourists and ocean lovers alike. Outdoor activities include strolling along the active harbor, boating, swimming, fishing, and bird watching. Plum Island offers miles of public sandy beaches, and the Parker River National Wildlife Refuge is home to more than 800 species of birds, plants and animals. The Audubon Society's Joppa Flats Education Center and Wildlife Sanctuary, and Maudslay State Park both overlook the Merrimack River and offer opportunities for exploring the rich natural gifts of the region.
Newburyport is located at the mouth of the Merrimack River, in the far northeast corner of Massachusetts. It is 35 miles north of Boston and 18 miles south of Portsmouth, New Hampshire.
Newburyport's many inns and B&B's are housed in historic buildings and retain the flavor of old Newburyport.
Clark Currier Inn
45 Green Street, Newburyport, MA 01950
T: 978-465-8363
www.clarkcurrierinn.com
Garrison Inn  
11 Brown Square, Newburyport, MA 01950  
T: 978-499-8500 F: 978-499-8555  
E: frontdesk@garrisoninn.com
The Essex Street Inn  
7 Essex Street, Newburyport, MA 01950  
T: 978-465-3148 F: 978-462-1907  
E: info@EssexStreetInn.com
Compass Rose  
5 1/2 Center Street, Newburyport, MA 01950  
T: 978-423-5914  
E: info@Compassrosenewburyport.com
Newburyport has wonderful restaurants. More than thirty are clustered downtown. Take your pick from top-notch Indian, Thai, Chinese, Italian, Mexican or sophisticated bistro fare. Have a sub, a slice, a latte or bubble tea at one of our casual cafes.
All within walking distance to festival events.