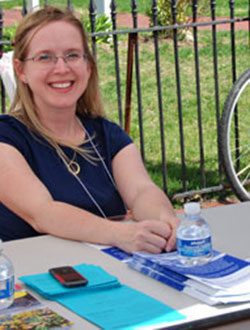 Volunteers are the backbone of the Festival. They help the events run smoothly and make sure our authors and guests feel welcome.
Sign up below to join our team
of dedicated volunteers!
The Festival offers a variety of volunteer opportunities perfect for any book-lover. You can help out individually or with a friend or relative: among our regular volunteers are a husband and wife, a poetry lover, and several members of a local book group. High school students are also welcome to join us, and can earn community service hours for their help.
Volunteering for the Festival is simple and does not require a big time commitment. Our greatest need is always in the venues on the day of the Festival, where you can work during the morning or afternoon session – or even for the full day if you wish. A brief, one hour training session is required for all new venue volunteers. Read below for other opportunities.
How many volunteers do we need?
Over 75 volunteers help prepare for and work
at the Festival every year.
We are always looking for new people to join our returning group of dedicated volunteers. If you're new to the Greater Newburyport area, volunteering for the Festival is a great way to get to know the community!
Volunteer Opportunities:
Venue Captain (Saturday AM or PM)
Assistant Venue Captain (Saturday AM or PM)
Venue Floater (Saturday AM or PM)
Pre-Festival preparations (distribute posters, signage, balloons, venue set-up)
Post-Festival break-down (Saturday late afternoon)
Note: We regret that we cannot guarantee placement in particular venues or sessions, but will take special requests under consideration when making assignments.
Volunteer Form